OUR HISTORY

Wilf Degelman started Degelman Industries 60 years ago with one thing in mind. He wanted to make products that had a true impact on the farm. Wilf was raised on farm values, not business values. He believed in honesty, being upfront, and was always interested in what farmers were doing and where they thought the industry was headed. He understood the costs associated with farming and set out to make practical equipment that would make seeding and harvesting easier.
In 1962 Wilf Degelman built a heavy duty rock picker, the product that started it all, out of his barn in Raymore, SK. Fast forward to today, and we still build all Degelman products with his philosophy in mind; "The fewer number of parts and complexity the better-and when you build something, build it right, build it heavy and build it to last-from top to bottom".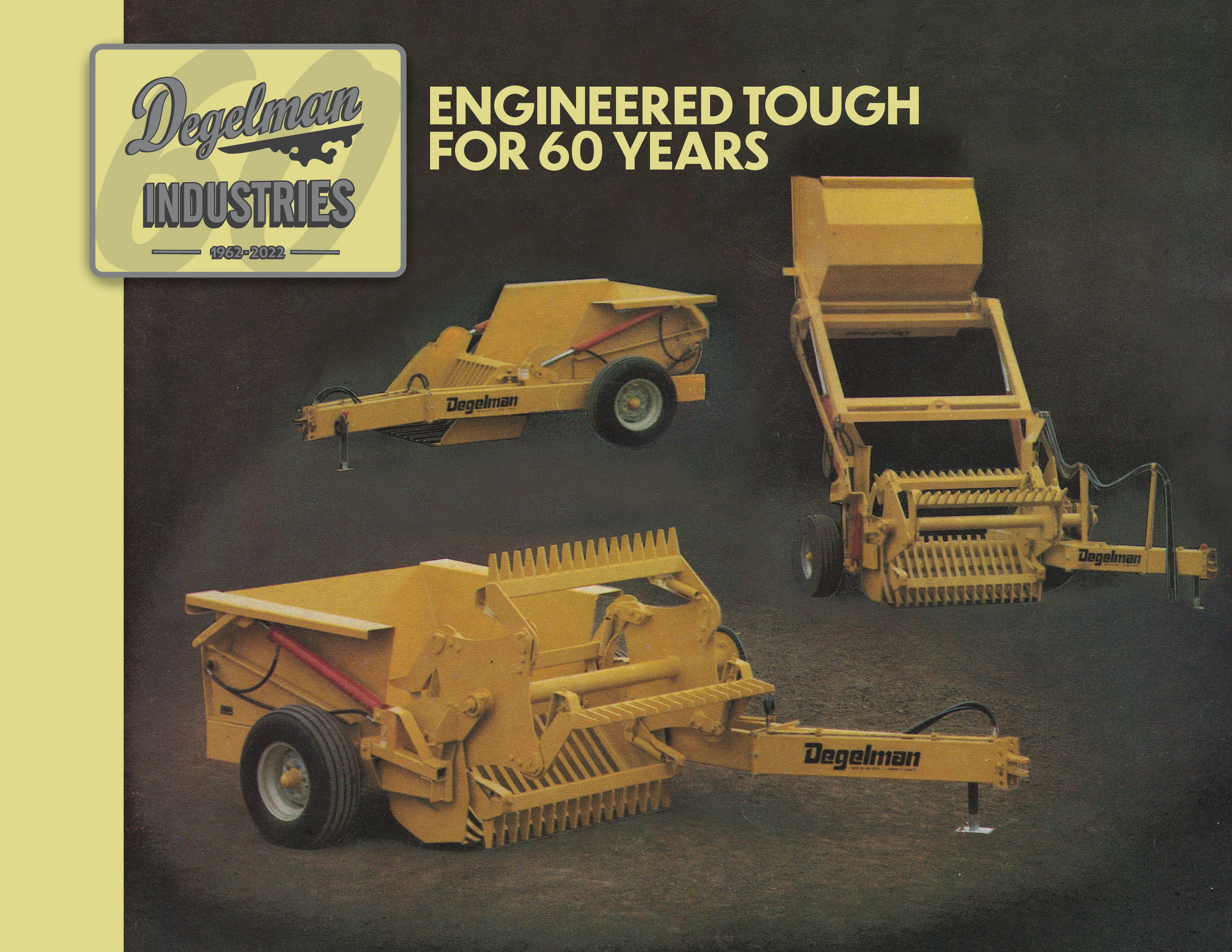 Click the image above to view our 60th Anniversary Commemorative Book of Degelman Industries

We focus on support and make the experience of owning a Degelman unlike any other. We are a well established company, with deep roots in the agricultural industry. We take exceptional pride in what we do, and manufacture every piece of equipment with extreme focus and care.
We go above and beyond, like the marks you'll find on our equipment to show the torque has been done right, and creating easy to follow quick start manuals, so you're ready to roll on a Sunday morning. We make all of our products with the farmer's needs in mind.
Over the last 6 decades, there have been great advances in technology, but the foundation of Degelman remains the same: build simple, heavy, reliable equipment, that will last for generations. We choose to innovate rather than imitate, and work hard to remain an industry leader. Wilf truly said it best: "Build it right, build it heavy and build it to last-from top to bottom".
Degelman. Engineered Tough.
---

OUR MISSION
We are Engineered Tough. Our mission is to inspire generations of employees, customers, dealers, and vendors to create the most innovative agricultural solutions with an exceptional Degelman experience. Our goal is to achieve this mission through our 8 key values:
BOLD- We set the bar for the entire industry by thinking BIG. We make strategic decisions with our resouces and identify, plan and seize opportunities.
INTEGRITY- We design and build our products to the highest standard and treat people as we expect to be treated in return.
CREATIVE- We foster creativity in our employees. We are continually making improvements to better the customer experience at every level.
COLLABORATION- Voices matter and we listen. Our teams work jointly with our customers to challenge the industries we serve.
GENERATIONAL- We make long term decisions. We solve problems by investing in people and products that form relationships that last for generations.
IDENTITY- We know who we are. We employ the best and deliver the best products on the market. Our unique customer experience creates a loyalty that lasts for generations. We've been doing this since 1962, and will continue to stay true to our tradition.
SIMPLICITY- We build simplicity into our process and our products. We are extremely resourceful; our goal is to keep it simple and straightforward. We are easy to do business with and we keep our promises.
PASSION- Our passion is our fuel. It's what drives us to uphold our values and fulfill our mission. This is the catalyst to delivering an exceptional Degelman experience.